The Red Tape
Welcome to the inaugural Miss Anthropy Knits blog post, also known as practice for my new podcast that'll be starting around Halloween-ish 2014 (to correspond with the release of an upcoming shawl design!)
So I'll be testing out different formats and segments that I'll eventually port over to the podcast, and any feedback you have is greatly appreciated (: So without further ado…
Faits Accomplis
Things I've finished! I've been pimping photos all around the internet of my newly finished shawl that I designed, so I guess I should do so here as well:
It doesn't have a name yet, but it's designed specifically for those highly variegated yarns that are so gorgeous in the skein but so hard to find the right project for. I used 716knit yarns' 716twist in the colorway Slayerfest and US6 needles. I love the way the lace breaks up the variegation, and there is a nice braided effect in the border rows. Topped off with a simple spiky edging, it's a great use for those skeins not destined to become vanilla socks. Also, you can use any weight of yarn! It's currently in testing and will be released around Halloween (yup, this is the above mentioned design).
Next up, my first project for the Oh!Loops Harry Potter KAL – A Firebolt for the Quidditch challenge. I'm playing for the Ravenclaw house, so I decided to use a blue-gray yarn to rep my house! This yarn is Ewereka Yarns Perpedes in Hedwig's Flight. So that means my shawl is Hedwig on a Firebolt, which gives me all the feels. Anywho, here it is:
Lastly for this week, is a test knit I just completed for Mia Rinde (second Mia shawl this week!) It's called Two Twigs, and I used Tosh Merino Light in Leaf and US 6 needles. Apparently those are my go-to needles for fingering weight shawls.  Unbelievably, this was my first time ever using TML, and it was heavenly! It was a lot of fun making the nupps with this yarn and the pattern was very quick and easy for something so beautiful!
I'll link to the pattern when it's released so you can make your own (:
UFOs (Unfinished Objects or works in progress)
I'm currently working on a huge number of projects, primarily because my wedding was about a month ago and I knit and crocheted a bajillion flowers for the bouquets and as you might imagine there was something of a frenzy in the last few months of nothing but wedding knitting. So as soon as that obligation was over, I went a little cast-on crazy. Here are my current unfinished objects:
So this is actually a bit further along than pictured here – I'm almost to the end of the first sleeve – but I haven't taken another picture recently. The yarn is Sunrise Fiber Co. Frolic Sport in Lovebird (the variegated color) and a custom dark teal that Wren from SFC to match the Lovebird color and I'm using US 8 needles. I've kinda lost my mojo on this sweater, but it's not hibernating yet. I had to tear out the sleeve three times so it's in timeout.
Next up is the second sample of my new shawl design for the variegated yarns. This time I used Nerd Girl Yarn's Swagger in Bangarang! from the September Random Fandom club and again, US6 needles.
The colors are like the food fight scene, and they look freaking awesome in the pattern.
I also have a Great Divide shawl on the needles, finally, after having it in my queue for a million years. It's SFC again, Vintage DK base in Farmers Market (variegated) and Fern (semisolid), and US9 needles.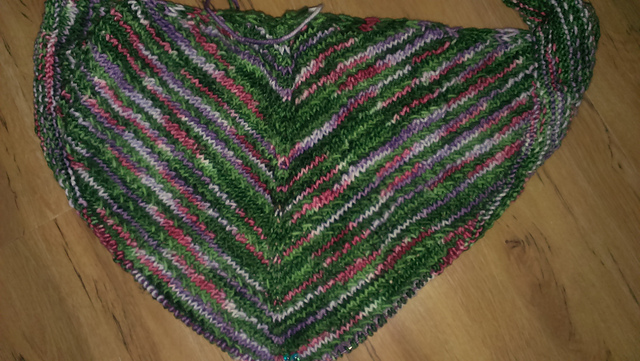 I also thought I'd give loom knitting a shot, so I busted out my KB Sock Loom and yet another skein of SFC (Classic Sock this time) in Sorbet. I'm not a huge fan of loom knitting, as it turns out, but I did put these socks in Detention for the HP KAL, so maybe I'll finish them before the end of the year. I do really need some new socks.
Finally, my last knitting project is a secret test, but I can show you these adorable yarn cakes! It's a gradient set from Sunrise Fiber Co. on Classic Sock, in the colorway Escape.
I have a spinning project going right now too, but no pics of my bobbin. I think we've had quite enough for today anyway.
IRL (in real life)
So I mentioned earlier that I recently got married. My wedding was at the end of August, and it was a frickin blast! I apologize to all of you who have seen these photos a million times, but I had a wonderful time and want to share:
Okay, yes there are a million more, but I'm getting really photo heavy here, and I really wanted to share the crafting I did. I made the shawls, socks, and flowers!
Since the wedding, I've been job hunting – which is dead depressing, by the way – but I do have an interview on Wednesday. Wish me luck!
So that's pretty much my entire life for the last couple weeks, thanks for caring!